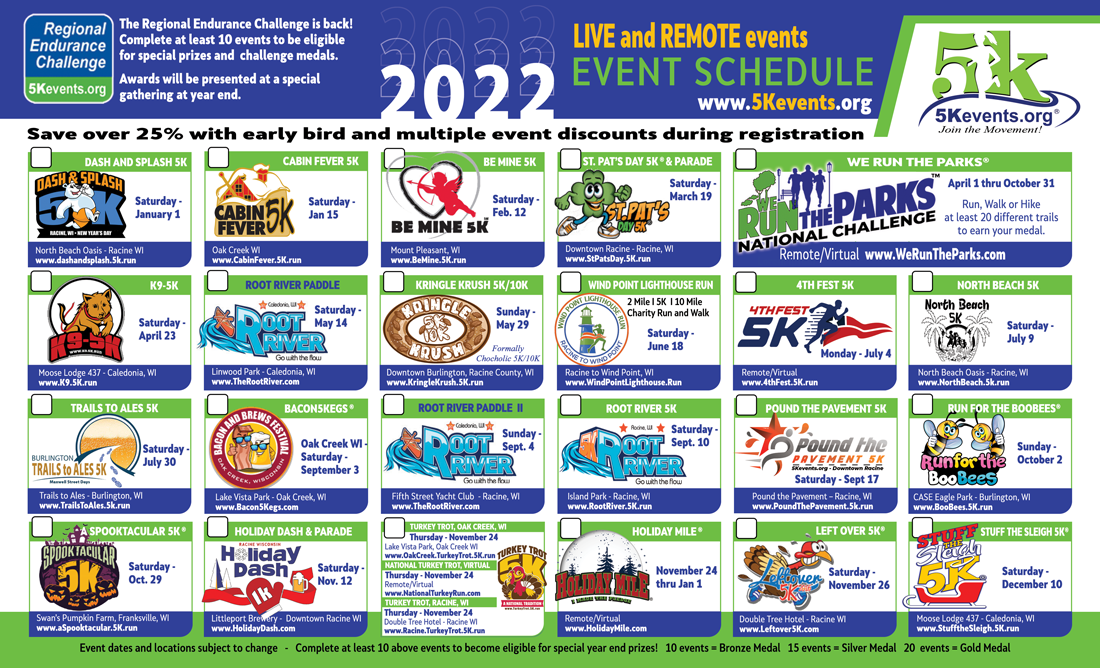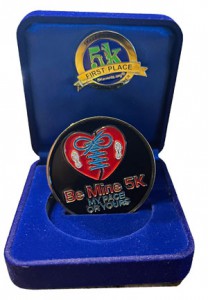 ABOUT the 2022 5Kevents Endurance Challenge Coins:
To an outsider, a challenge coin might look like nothing more than a fancy collectible. It's true that these coins are collector's items, but they're also shrouded in real tradition. Challenge coins indicate membership in something important, and there are rules that govern them. Playing the game by throwing down a challenge with a coin is something with which every coin owner should be familiar.
5Kevents ENDURANCE CHALLENGE COIN ETIQUETTE
It's an honor to receive a challenge coin. That's why it's important to know the etiquette surrounding these important mementos. When you use the 5Kevents challenge coins the right way, you're contributing to a time-tested tradition that inspires camaraderie and membership. Here are the essential rules you've got to follow if you are part of the 5Kevents endurance challenge coin game.
The game is exclusive to only those that have participated in a 2022 event. 

You only need to carry one coin from any of the events you participate in. It must be always carried, and challenges can be called out anywhere and at any time as long as you are in a drinking establishment. 

The challenger must possess a coin himself/herself and clearly state whether the challenge is for one drink or a round of drinks.

If the person challenged fails to produce a coin, the challenge must be honored, and drinks must be purchased. A person can only be challenged once. You are free to challenge any past 5K participant or 5Kevents staff. 

If everyone who is challenged manages to produce a coin, the challenger is on the hook to buy the drinks for all. Be careful of who you challenge.

Never hand someone else a coin in response to a challenge. Doing so is the same as giving the person the coin. The coin can be placed on the table, and anyone who wants to examine it is honor-bound to return it to its original location.

If you lose your coin, you're responsible to replace it as soon as you possibly can by participating in the next 5K event listed above. Losing your coin doesn't absolve you from responsibility to follow the rules of the game. In other words, you're buying a lot of drinks if you lose it.

There are zero exceptions to these rules. They apply whether you're wearing clothes or not, so think ahead. You've 30 second's to reach of your coin.

A challenge coin is a coin. It's not a belt buckle or bracelet or necklace, so don't use it like one. The exception is for coins that are carried in a pouch around the neck.

You must always control your coin. It indicates honor, so you shouldn't give it to just anyone.

You may not drill holes in your coin.

These rules apply to anyone over the age of 21 worthy to be given a coin, anyone who's known to own a coin, and anyone who buys a coin. But in all fairness, those that wish not to play, may opt out of the challenge. This is just for fun, so you opt out. And still retain the coins.

The Game resets in 2023.
KEEP THIS TRADITION ALIVE
The bottom line is that a challenge coin is a thing of honor, and you should treat it like one. 
Challenge coins carry great sentimental value and are symbols of pride representing one's commitment to the Endurance Challenge.
Always carry your coin as a reminder of your commitment and connection to something bigger in your daily life. 
CHALLENGE COIN PERKS COMING SOON! 
Have you ever participated in a Challenge Coin Check? Tell us your stories on our Facebook page at www.Facebook.com/groups/5Kevents , and don't spare any details!