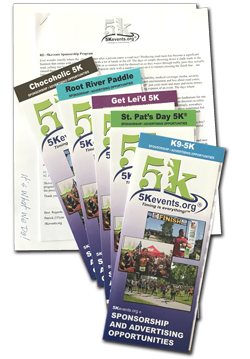 Obtaining Sponsors… simplified
Be the first to the finish-line.
No matter how great your cause, at the end of the day, an event sponsor is ultimately looking to connect with their target audience – whether to directly boost sales or leads, improve brand recognition/recall, enhance their image by being associated with a cause, or all the above.
Because event sponsorship plays such a significant role in event revenues as a significant source of income  – 5Kevents offers its charities a unique and powerful sponsorship program to enhance the revenue generated… and we have simplified the process along the way.
Learn more about getting the right systems in place to deliver the value your sponsors are looking for.
Benefits
– Sponsorship/Advertising Brochures
– Letter templates
– Detailed program guide
– Corporate sponsorship program
– Individual sponsorship program
– Rate Cards with discount schedules
– Online processing
– Accept all major credit cards
– Complete fulfillment of products
– FREE web site
Process
– Request a sample packet
– Consult with our representatives
– Order your custom packet (FREE)
– Start promoting your event
Documents

Before contacting us, think of selling event sponsorships like selling a product or service, because the concept is the same. In the business world, the fastest way to demonstrate the value of what you can offer potential sponsors is a concise statement that outlines:
Your event's mission or cause

What you offer that is of value to sponsors

What differentiates your event from others

What defines your event's audience (size and key characteristics)

How the sponsor will benefit from the relationship
Ideally, your proposition should be no longer than a few sentences, and it should be written so you can include it in your initial communications to potential sponsors. Here's an example:
"The Be Mine 5K is the only regional event dedicated to building relationships. [differentiator] and benefits the American Heart Association [cause/mission]. Our annual event draws ~600 attendees with an average yearly household income of $120K [audience], and we offer a variety of custom sponsorship options [value] that will give you months of continued exposure to these high-earning individuals [benefit]."
How it works:
It's pretty simple and we do most of the work for you, allowing you to focus on promoting the event. We provide all the tools and resources needed to attract sponsors. Once sponsors are engaged, we then manage the fulfillment from invoicing, collecting funds, artwork, proofs to production and shipping of items. 
Assign a Point Person First, someone needs to take charge. Finding a sponsor takes time and effort and it's therefore best to have one person who takes the responsibility. That doesn't mean he or she has to do all the work, it can (and should) still be a team effort. However, it's good to have one person who keeps the reins in hand. When looking for a point person, keep in mind that sponsorship (aka Advertising) is mainly a business transaction and choosing someone with business or negotiation skills would be an asset. Also, find a person who has the capacity to do the job well and isn't burdened with a lot of other responsibilities.
Who to reach out to:
As with everything, it's best to start with those you have a direct connection with. As a first step you ask people in your inner circle if their employers would be valid options and to introduce you to them.
Another good idea is to walk around the neighborhood where your organization has it's presence or use sites like Yelp to find local businesses. However, don't just approach anyone, it's important to be strategic about it. Make sure your values and the business' values line up and that they have a vested interest in your sport, event, demographic or community.
For that, think about who could benefit from getting known in connection with your organization. Businesses that are frequented by people related to your organization, their families and other members of the community are an ideal target. In addition to that, the type of businesses you approach are also worth considering. For example, sporting goods stores might be more interested in sponsoring you than a business that is completely unrelated. Furthermore, it also helps to research which companies have sponsored events or teams in the past and are therefore more likely to do it again.
Some large companies also have their own dedicated sponsorship programs (or budgets for corporate social responsibility) where you can apply online. Make sure to look for those as well, especially with businesses that make sense for your sport. Come up with at least ten valid potential businesses. Put them together in a database and start collecting their contact details.
For that, you can also make a first round of calls to the companies on your list and ask for the person responsible for sponsorship. In larger companies, that will often be a marketing or advertising manager, in smaller businesses you might often have to talk to the general manager or owner. While you are on the phone you can also directly find out if they do sponsorships at all and if so, what their goals are with it. This will help you tailor your messages more directly.
WHO TO CONTACT FOR SPONSORSHIP:
Vendors and Suppliers specific to your organization

Businesses that cater to to you

Members 

Families associated with your group

eMail Database 

Local financial institutions, specifically Credit Unions

Sports related businesses

Chiropractors

Schools and school districts

Dick's Sporting Goods, Dunhams, etc.
Benefits for the Sponsor
For the sponsoring party, sponsorship is basically a marketing investment. Sponsoring teams and events gives them positive exposure. This in turn can lead to increased sales, heightened brand awareness and customer loyalty.
Sponsorship is not just the domain of big business. Small and local shops can also use it as a marketing tool to improve their standing in the community. By printing their logo on your race bibs, displaying it on banners, flyers or any other promotional material, they can show that they support your organization.
However, sponsorship also remains a marketing investment and therefore needs to be justified like any other expense.Thankfully, sponsorship can be surprisingly cost effective and much cheaper than other campaigns. However, it is up to you to show potential sponsors how a partnership with your organization will help their business.
The line between advertising, marketing, and charitable donations is a blurry one. The amount that is deductible as a charitable contribution for sponsorships depends on what the donor gets in return.  If it is a cash donation and they are getting little to nothing in return, that is considered a charitable donation.
On the flipside, if they are sponsoring a specific item such as signage, t-shirts, promotional products, etc., we then acknowledge the contribution with publication of their logo and name on specific items for the event, the acknowledgment takes the form of real advertising. It would then be considered "advertising" and not a "sponsorship". 
Most business donors don't care too much about the charitable deduction because a business can deduct such costs as ordinary business expenses.  Therefore it is 100% tax deductible. It's simply easier from an accounting standpoint to write it off as advertising.
In a nutshell,  sponsorship, or "advertising"  shows public support for the cause, provides goodwill advertising for the sponsor and  reduces the overhead of the event. In the end, this puts more money in the pocket of the charity. Our sponsorship program is designed to keep things simple, especially from an accounting standpoint.

Run for Free Program (Individual Sponsorship)
Available when using 5Kevents online registration platform only
How it works:
Another fund-raising tool unique to 5Kevents is our "Run 4 Free" Fund raising tool. Think about this… Hypothetically let's say you have 300 runners sign up and 100 decide to be fundraisers. Each of those people recruit 10 people to sponsor them @ $10.00 each resulting in a $100 pledges. That's $10,000.00 in total pledge fund-raising!
At 5Kevents we believe in rewarding those who help us. Our "Run 4 Free" program rebates the runner the cost of their registration if they collect more than $100 in pledges (or whatever amount you indicate). That leaves you with an additional $7000.00 (after crediting the participant for their registration fee). Bottom line is you end up with $7,000 additional revenue without ever lifting a finger! We take care of everything.
POTENTIAL REVENUE if each runner collects $100 in pledges with a $30* registration fee (Fee is determined by you) :
100 Runners: Estimated proceeds to charity ….. $7,000

200 Runners: Estimated proceeds to charity ….. $14,000

300 Runners: Estimated proceeds to charity ….. $21,000
We Provide:
Online registration platform to collect donations

PDF and printed forms for runners to use when collecting pledges in person

We rebate the registration fee back to their credit card used at registration automatically

We create a fund raising page for individuals and teams when they register for this event. User is presented a page during registration to setup their fund raising page and they receive a confirmation email explaining how to manage their individual page. 

We also allow donations to the charity during registration.

Track of all donations in real time and display on the web site.
Participants simply register for the event like they normally would,  commit to raising a minimum of $100 in donations, bring the donations with them to the event and we rebate the full cost of their registration. 
NOTE: If a person signs up under the "Run for Free" program and  collects less than $100 but still wants to participate, they will need to pay the on-site registration fee or up to the $100 pledge goal.
SUGGESTION: Make an effort to recognize the top TEAM FUNDRAISERS if that is applicable to the event.
Have paper work for on-site donations.